Olympic star Sarah Sjöström became the Swedish Childhood Cancer Foundation's poster name last year. In one campaign, with the help of Nike, age 8, she attracted new Child Supporters to the organisation. "Sarah thought that meeting Nike was very inspiring," says Anne Bergsten, brand manager of the Swedish Childhood Cancer Foundation.
Olympic swimmer Sarah Sjöström's accomplishments in the swimming pool have made her a hero. But eight-year-old Nike is still the big hero because she has fought against germinoma, a malignant brain tumour, from which she is now free. This is the message of the campaign video featuring the two heroes, Sarah Sjöström and Nike, who promote the Swedish Childhood Cancer Foundation and children with cancer.
Sarah Sjöström chose to become the organisation's ambassador and poster name last year and the video was recorded prior to the Olympic Games. The goal of the campaign is to attract more people and companies to become Child Supporters. "The meetings between Sarah and Nike have been fabulous and they have stayed in touch ever since they met," says Anne Bergsten.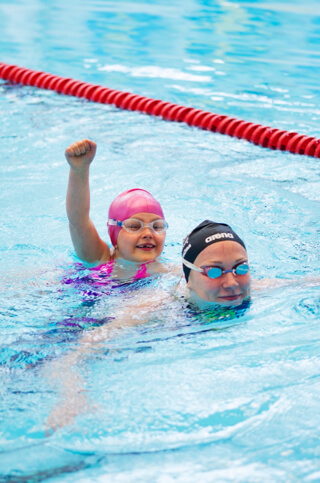 Peter "Foppa" Forsberg was previously a poster name and will continue in this role moving forward. The Swedish Childhood Cancer Foundation is very pleased about the addition of Sarah Sjöström.
"We wanted someone who was as popular as Foppa and who possibly appealed to a somewhat younger target group. Sarah feels like a breath of fresh air who is at the peak of her career," says Anne Bergsten. Sarah Sjöström and Foppa participated at the Childhood Cancer Gala – the Swedish Humour Prize, together with Nike and Mattias. Mattias was treated for acute lymphoblastic leukaemia (ALL), and was active together with Foppa in the previous campaign, which also aimed at recruiting more Child Supporters for the Swedish Childhood Cancer Foundation.
Today more than 80 per cent of all children diagnosed with cancer survive. But 20 per cent of the children still die. In order to continue to reduce the mortality rate from childhood cancer, more money is required for research.
"Now when both Sarah and Foppa are Child Supporters, we hope that more people will follow in their footsteps," says Anne Bergsten.